In the eyes of many, a closet is nothing more than an enclosed storage area for clothes, bedding and assorted miscellaneous items. Those who have mastered the art of organization tend to create amazing spaces eliciting a great deal of amazement from less efficient peers.
Celebrities' closets tend to rank among the elite, and a few have invited the world into their homes to showcase their boutique-style repositories. Though the following stand out for a few distinct reasons, space management is an element they all have in common.
Olivia Palermo
A socialite of reality television fame, Polermo houses her wardrobe and accessories in a space with enough square footage to be a bedroom for the average person. Featuring a chandelier, fireplace and zebra rug at the heart of the matter, this space blends the present with the past for an unrivaled style of decor. Those with a spare bedroom sitting idle and a bit of flair could potentially imitate this aspect.
Khloe Kardashian
This member of possibly the most recognizable family in television proudly displays her love of the Louboutin shoe empire in her receptacle. Shelf space is the greatest tool in her arsenal though coordination could certainly be considered another strong suit. Rather than rely on a single shelf, these line the walls of this celebrity's fortress, providing ample room to expand. While each Kardashian sister has her own distinct style, all their closets seem to incorporate this particular feature. It could easily be recreated in a smaller space but to a less expansive magnitude.
Christina Aguilera
Actress, singer, songwriter and organizational expert extraordinaire, Aguilera has her closet skills down to a science. Not only are her shoes arranged by designer, but she also has specific areas dedicated to jeans, skirts, winter wear and all other clothing classifications. Jewelry has a nook of its own as well; of course, her unique persona is evident throughout the room. Structure is sometimes all you need to plan out an impressive space for your belongings and make it your own.
Mariah Carey
Leaning more toward the luxurious end of the spectrum, this musical genius has graced the floors of her designer space with bleached wood and gold-leaf patterns. Clothing and accessories alike are laid out by material, color and purpose. The room is fully climate controlled, making time spent inside more comfortable and prolonging the life of the items within. Storage space overhaulers with a limited budget might create a similar appearance with less costly materials.
Jamie-Lynn Sigler
Though perhaps not as sizable as other notables in this category, this actress well-known for her role in The Sopranos has made the most of her space. Functionality is key here with every storage element in use. She has a place for everything, and everything remains in its place. This is positive proof of the potential lying in even the smallest of closets.
Paula Abdul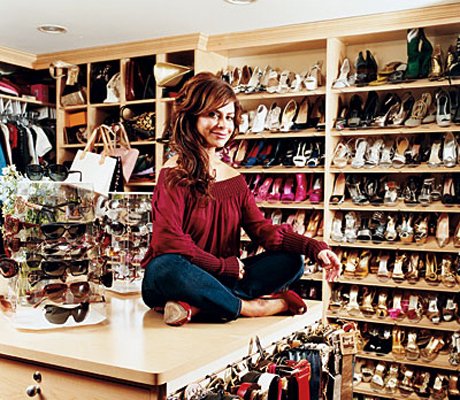 Choreographer, dancer, singer, songwriter and previous American Idol judge, Abdul carries on the aspects of organization and efficiency. She uses numbered tags to classify clothing and matching accessories, making coordination a top priority among her wardrobe. An island similar to those found in kitchens around the world rounds out this vault, providing additional storage and outfit planning space.
The size of a closet isn't always as important as a well-planned interior. While organization is critical, adding a bit of personal style can truly enhance this type of space. Whether revamping an existing walk-in version or transforming an extra bedroom into a clothing and accessory haven, consider adding in a few of the elements mentioned above for ultimate space usage.
The 6 Most Amazing Closets Out There